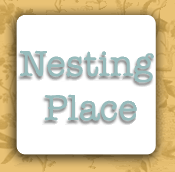 One of the blogs I just recently began reading (I have a SHAMEFUL obsession with reading blogs...) is
The Nesting Place
. This week, The Nester challenged her readers to reveal and post about one imperfectly beautiful portion of their home. Unfortunately, during the summertime, I'm aaaaaaallll about the garden, so I'm bending the rules a bit. Instead, you're about to see the very imperfect spots in my garden. Beautiful? Maybe not so much. LOL
Do you see 'em? Between those two
Spirea
who've only just spent their gorgeous white blossoms. Yeah, those are two dead, dead, dead
Spirea
. Killed by moi. I tried to transplant them from the backyard to the front to fill in that imperfectly beautiful gap in the hedge. I really thought one of them would make it, since it still had some green before winter set in last year, but alas!
Okay, this one is more obvious. I can't begin to describe the imperfections in this beautiful little garden plot of mine. It was supposed to be bursting with breadseed poppies (
Papaver somniferum
) by this time. Instead it has a few very wee California poppies (
Eschscholzia californica
), cosmos (
Cosmos bipinnatus
), and cornflowers (
Centaurea cyanus
). Let's just say I super duper suck at growing poppies of any variety. Y'all see the topsoil runoff onto the sidewalk? How precious. I really don't even know how to prevent that yet, other than to get something to grow there. Not doin' so well on that one. Let's not mention the weed-filled cracks in the walkway...
It's inevitable that when you garden, you will have some failures. This is especially so when you're gardening with edibles. Too much rain, too little rain, early frost, late frost, freak hailstorms, rotten neighbor kids, dog urine, etc, etc, etc can all contribute to a less than stellar crop. The thing is, you have to keep going. Have to remember that all of these spots really are imperfectly beautiful. I get to replace those brown and brittle
Spirea
with something with some edibility or other use (or, more than likely because of my perfectionist nature, more
Spirea
) and I have a kickass plan for a purple herb garden in the plot of dirt next year. Maybe even a
columnar apple tree
or two...